ART IN THE ALLEY 2019: 

Saturday 24 August 

@  Dragon Alley 
SELINA JOERGENSEN, ANNE-SOPHIE COURNOYER, BRIAN ROMBOUGH, MICHEL DES ROCHERS, BOB HOGUE, KRISTELLE LEVEQUE, DALLAS SEGNO, JOANNA VANDERVLUGHT, MAIJA KSANDER, GENGHIS SHAWN, CORY SCOTT, PAUL MCNAIR, KATE NEWMANN
This one-day only showcase of Victoria Arts Council members offers audiences the opportunity to meet the makers/artists in unique setting of Dragon Alley (located off Fisgard) in Victoria's historic Chinatown. Original artworks and limited editions will be for sale from 10:00am to 3:00pm >>> COME EARLY AND BRING A FRIEND!

___________________________________________
Arts and Positive Change in Communities
Arts and culture are powerful tools with which to engage communities in various levels of change. They are a means to public dialogue, contribute to the development of a community's creative learning, create healthy communities capable of action, provide a powerful tool for community mobilization and activism, and help build community capacity and leadership.
Here are a few of the Community Programs we support.
Puppets for Peace Aims to Make the World a Better Place
https://www.timescolonist.com/puppets-for-peace-aims-to-make-the-world-a-better-place-1.22876730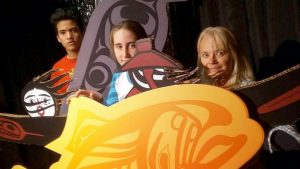 Dance Alchemy Project

The Dance Alchemy project began in 2015. It is hosted by the Victoria Arts Council and facilitated by Joanne Cuffe.
In 2016, four artists collaborated with four community dance groups, with dancers with diversabilities, dancers who are older adults, and dancers who are newcomers. The groups came together for a Celebration in June 2016 to share their new works as well as mingle during a dance party. The first year was a pilot project, with funding from the BC Arts Council and partner organizations: Glenshiel Housing Society, Wellspring Support, Garth Homer Society, the Victoria Immigrant and Refugee Centre Society, and MediaNet. The artists who collaborated in 2016 were Lori Hamar, Kirk Schwartz, Tiffany Tjosvold and Joanne Cuffe.
The first year of the project received excellent feedback from participants and the project will continue to grow in future years. For more information on the Dance Alchemy Project visit:  http://www.creativemoment.im/programs/dance-alchemy/

Strength Within Arts Program
The Victoria Arts Council (VCA) and James Bay New Horizons (JBNH) are partnering community sponsors for Patrick Smith's successful Strength Within Arts program for Marginalized People in the CRD. With community collaborators, VCA and JBNH will expand this subsidized, interactive, healing arts program for people marginalized by illness, disability, poverty and advanced age. The program consists of singing and instrumental music complemented by intermittent sessions of theatre, puppetry and dance. The program provides opportunities for learning, self-expression, mental stimulation, enjoyment, socialization and improved physical and mental health for the participants. This program addresses the issues of isolation and marginalization suffered by those who are ill, impoverished or aged.
The Victoria program component is looking to expand to provide arts services for other organizations serving marginalized people in the CRD.  Visit: http://www.strengthwithin.ca/
Fall For The Arts Expo 2014/15