Victoria, according to the most recent Census statistics, has the highest number of artists per capita in the country. With this in mind, Victoria Arts Council posed three questions to those vying for the spot on city council in advance of the upcoming municipal by-election.
Below are the answers by those candidates who responded to our request: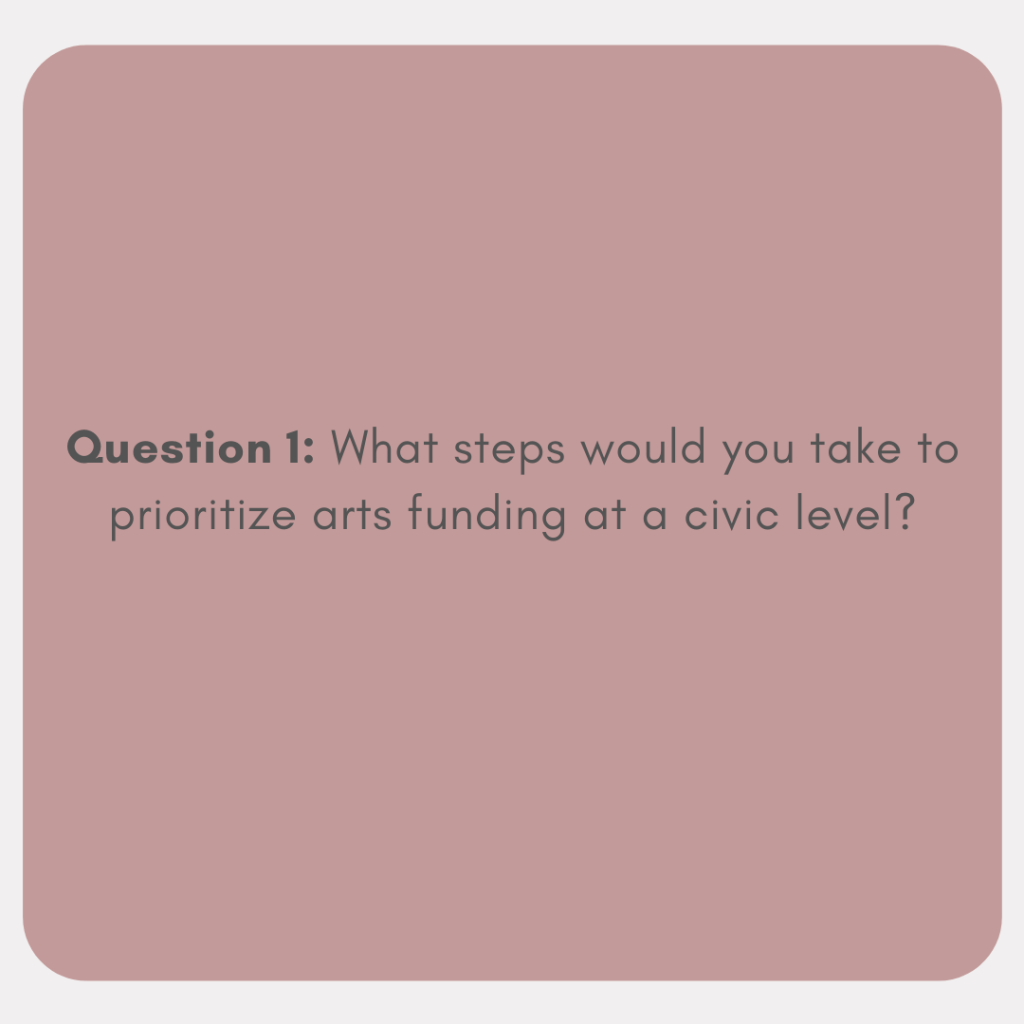 Stephen Andrew: I intend to work with fellow councillors in Victoria and across the Capital Regional District to increase funding to the Arts at a civic level.
It is important that we look "way" back to Victoria Arts Manager report from 1999 that called for stable and increased funding levels for artists and our arts community.
We should adopt best practices and I will champion models such as Winnipeg that finds ways to ensure that commercial productions benefit local arts. Within my first six months I will introduce a motion that a "local arts endowment" fee be placed on all commercial productions and that money be placed in a fund to establish additional funds to support the work of our talented artists.
Stefanie Hardman: Arts and cultural communities are such a key part of what makes Victoria the amazing place that it is. I believe that municipal governments need to champion the growth of arts, culture and heritage — always, but especially as the COVID-19 pandemic has had a profound impact on the arts and culture sector.
I am committed to making Victoria a more thriving city, which includes promoting and supporting a vibrant arts community. I believe that funding to the arts pays off as the cultural sector pays 5 times more in taxes than it receives in public funding. And of course arts and culture contributes plentiful benefits to our communities aside from economics. As part of developing our budget in 2021, I will be working to see a strong commitment to funding for cultural spaces, and new arts infrastructure to help revitalize our arts and cultural industries post-pandemic.
The City's support for creators helps support one of the highest concentrations of working artists in the country. The $2.4 million that was spent in 2020 went towards supporting 94 not-for-profit arts organizations that are critical to maintaining hundreds of millions of dollars in economic activity in our region. I am very supportive of continuing this funding and further expanding these supports as financial resources allow.
I support the continued implementation of Create Victoria: the Arts and Culture Master Plan and its four pillar strategies: Connecting People and Spaces; Building Cultural Leadership; Telling Our Story; and Being Future-Ready. I am also very supportive of the City's Artist in Residence, Indigenous Artist in Residence, Poet Laureate, Youth Poet Laureate programs and more.
William Heflin: I was told when I came to town that you could spit in any direction and it would land on talent. I believe that the city's key dependence on tourism is in lock step with out artistic community. I would recommend to council an aggressive campaign to fund co-operative studios for the various arts in cooperation with and coordinated by UVIC. We have a fine group of students coming through in music and the fine arts and we should be doing what we can to keep that talent in this area, rather than having it go home to other areas of the Province.
Sean Leitenberg: I would encourage grants for the arts at the municipal level.
Hailey McLeod: I would like to see Victoria procure more buildings for both community and non-profit organizations to use, and to support local businesses in the arts sector. Many of our local music, theatre, and arts venues are struggling under the weight of commercial rent prices and high operating costs, and venues like the Royal and MacPherson that are owned by the city have not seen an increase in municipal funding in many years. I strongly support the city purchasing more arts venues that can host art related events and business, and increasing funding for those venues already owned. I also think that we need to take into account what a livable wage is in Victoria when making arts funding decisions, and make sure that funding covers a livable wage for artists. 

Roshan Vickery: As a member of council, I would make it a priority to work with all stakeholders, including the CRD and the province, to raise the profile of local artists and ensure that they have access to the resources they need.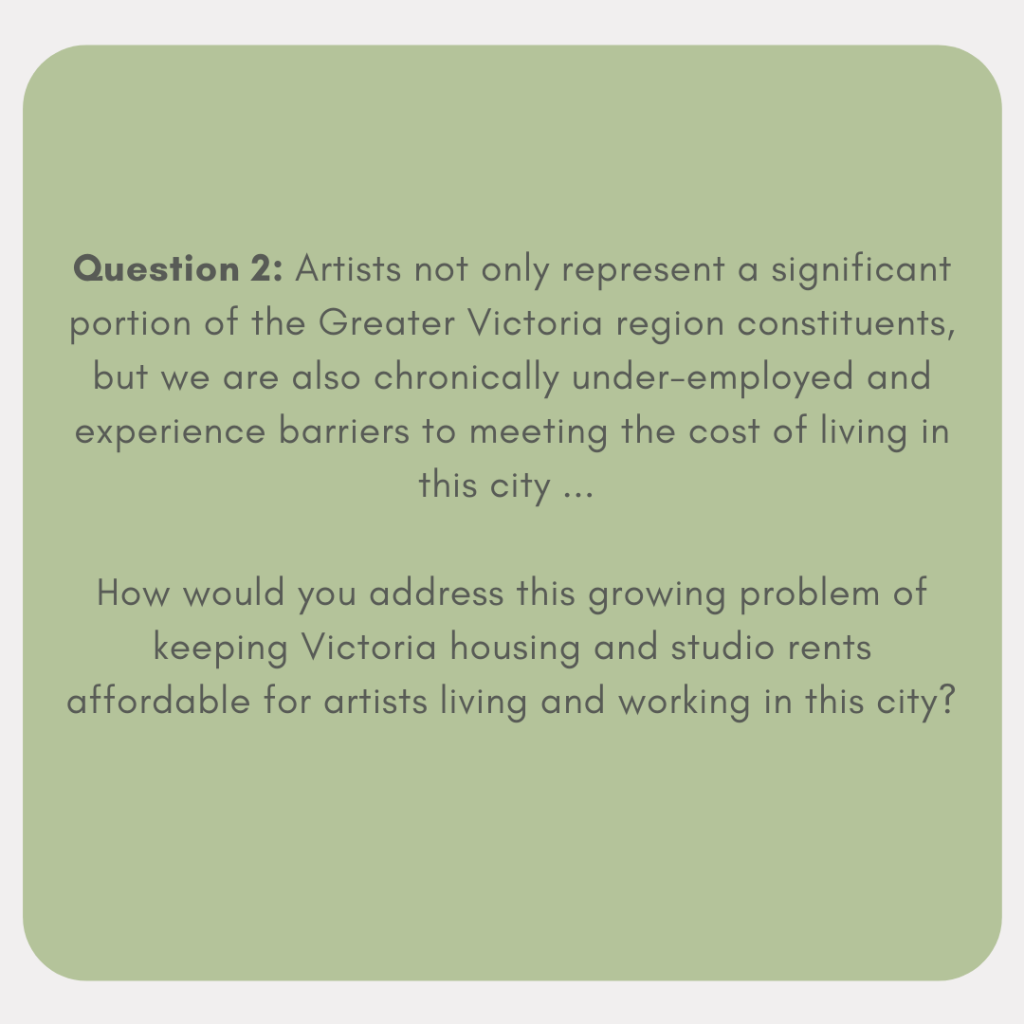 Stephen Andrew: Having lived this situation where I worked for an arts company in Victoria that frequently did not pay employees on time, wrote cheques that did not clear the bank and expected hours of volunteer work, I know the challenge this brings.
There are solutions.
According to CMHC housing starts are down 64% this year over last year. So, while it may seem that there is "rapid densification", the reality is that not enough housing is being built to meet demand, which is driving the price of available housing up. We need more varied housing, not just single-family homes, or condos. We need to address the missing middle of our market which are attached homes, small plexes, townhomes, and stacked townhomes. We need to densify transportation corridors and create incentives to build housing that is affordable by ensuring an affordable component in developments and explore alternative housing structures, such as co ops and non-market or partial market builds. We can moderate price pressures by adding to inventory, as we're seeing in the rental market now as there is a slight oversupply of rental housing coming online.
Stephanie Hardman: Even before the pandemic, our city was facing an affordability and housing crisis that impacted nearly everyone in the city. COVID-19 has made this problem even more clear. I've seen this issue facing artists and creators in Victoria for years — seeing many creative people pushed out of this city. We need a city council that will take bold action on this problem so that everyone has a place to call home.
To help maintain affordability and stability for artists, we need to maintain and preserve some of the existing affordable housing stock we have. This consists mainly of rental buildings from the 1960s and 1970s that are now reaching an age in their lifespan where they require some care and attention to keep in a good state of repair. We can do this through the implementation and enforcement of a Standards of Maintenance Bylaw. We need to ensure people are housed safely, and we need to prevent the unnecessary loss of housing that can put even more people at-risk of homelessness.
We also need to be increasing our supply of affordable housing, including social and non-market housing, and I'd like to see the city pursue creative approaches like co-ops, community land trusts, and more. I support Councillor Loveday's move to explore artist-centred models that would provide housing for artists alongside other arts amenities. I have also first-hand seen the benefits of live-work art communities, like Artscape in Toronto.
Finally, COVID-19 has made life harder for many artists, cultural creators and art spaces and venues. Some venues haven't made it through these hard times. I want to ensure we can help venues and art spaces make it through this difficult period by offering additional tax, utility, and fee deferrals when necessary and offering utility and fee deferral forgiveness to people and firms most in need. I also want to make it easier for businesses to create vibrant, safe spaces by expanding options for food trucks, patios, pedestrian-only streets, play spaces and public art.
William Heflin: Housing is an important initiative for all our citizens. The poorest cannot afford to live here. I believe that Council should invest in the oldest housing and purchase it to provide subsidized housing for the least well-to-do of our citizens. To create vacancies for these acquisitions, the City must push forward lower-middle and middle income rental construction so that people can "move up" in their housing. There is no doubt that at this point in time there is a real shortage. The only way out of that is to build our way out.
Sean Leitenberg: I support the construction of affordable housing. Construction of Co-Ops specifically for those in the arts. Increasing the density of art like minded individuals will increase the arts throughout the City.
Hailey McLeod: I would like to increase mixed use zoning to increase housing densities outside of the downtown core, restrict AirBnbs to greatly increase the current supply of long-term housing, make sure affordable housing projects receive support and that they are actually affordable (neither I, nor my friends employed full or part-time in the arts can afford the current "affordable" housing), and make sure all new builds include a percentage of affordable units.

Roshan Vickery: Until there is a direct correlation between the cost of housing and income, we cannot truly address this issue. Artists add intrinsic value to their communities, and we should be doing more to encourage them to live and create here. They are the soul of the city.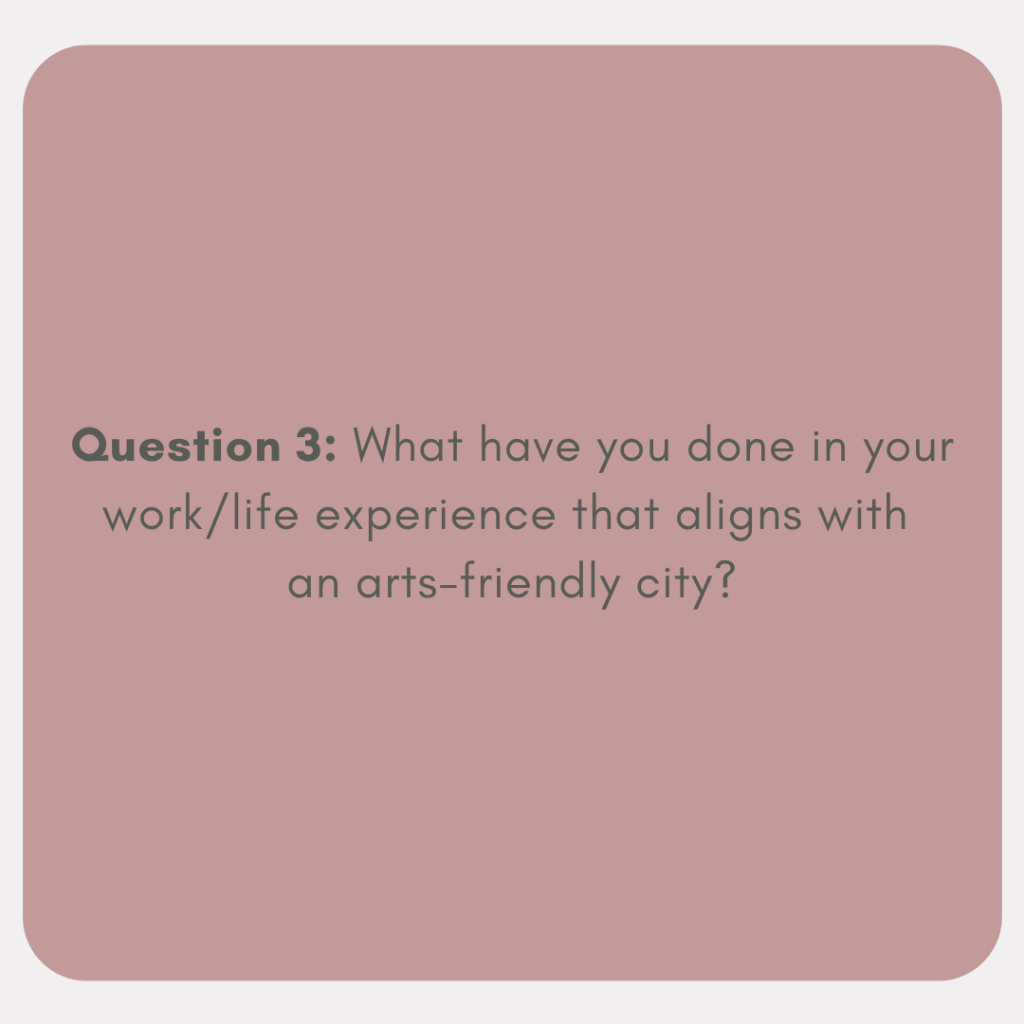 Stephen Andrew: I arrived in Victoria to work as a Stage Manager on the Kaleidoscope Theatre production of "The Wizard of Earthsea" – it changed my life and my home. I love Victoria and its diverse Arts community. I have directed, acted in, and produced many, many theatre productions in Victoria and across Vancouver Island. I have donated my time to helping community theatre groups. Raising thousands of dollars for theatre companies and I created the Thrifty Foods Family Concert Series. I also served as the Managing Director of the Victoria International Children's' Festival. I also wrote and directed two fundraisers for Kaleidoscope. I mention these points, not to grandstand, but to show my commitment and to let people know, who likely are not aware of my passion for the Arts. Thank you for this opportunity.
Stefanie Hardman: I've been a life-long supporter of arts and culture — especially independent arts and culture that require local community support in order to continue. I grew up in a local punk scene which infused me with an appreciation for creating with whatever you have, and with the importance of supporting one another. I've continued this love for local independent music and performance, and — pre-pandemic — you'd find me at a show at one of Victoria's venues (especially Victoria Event Centre, Logan's, Copper Owl, Cavity Curiosity Shop, and more) on at least a weekly basis.
This love of arts and culture has guided my volunteer and work experience throughout my career. I was a member of the Regional Outcomes Monitoring collaborative convened by the Capital Regional District, which is a multi-sectoral group that works together to build healthy communities within the CRD through working on the social determinants of health through facilitating discussion, acting as a conduit for information and as a catalyst for action. One of the goal areas for a healthy city is Connection to Arts & Culture.
I have previously worked with the Inter-Cultural Association (ICA) to explore community needs and desires for a makerspace for artists and markets of diverse cultural backgrounds. I conducted a survey and focus groups with artists and makers of diverse cultural backgrounds to ensure their experience and needs informed the development of this potential space.
Moreover, I was motivated to pursue a seat on Victoria City Council because I've been seeing many artists, musicians, cultural creators pushed out of Victoria — moving to cities where it is more affordable to live while being an artist. Creators who experience multiple facets of marginalization are often the most impacted. And I believe a thriving arts community is crucial to having a thriving city. I'm running to make Victoria a more affordable, inclusive, and thriving City — and we can't achieve this vision without the arts sector.
William Heflin: Much of my working life was spent in Nelson, BC which, like Victoria, was an arts centre, an education centre and a government centre. I married an artist in 1973. Unfortunately she passed in 2005. I married another artist in 2015. I have some knowledge and sympathy for the artistic community. In Nelson, we established art walk, civic gallery space (the old city hall is now gallery space) and did what we could to foster co-operative studio development.
Sean Leitenberg: I was the owner of a Canadian Independent Music Label with international distribution called Iron Music. We required grants to produce music and videos as well as grants for international marketing. I know the supports for the arts is critical to keeping Canada successful in the international market. The arts bring community together and increase quality of life.
Hailey McLeod: I love supporting (and enjoying) small local venues that host local artists. I have friends in Victoria who are musicians and friends who work in theatre, so attending their shows is something I try to do regularly. 

Roshan Vickery: As an auctioneer, appraiser, event organizer, and curator, I have spent my entire life promoting local artists. I have organized studio tours, held salons in my apartment, and, as recently as September of this year, conducted a safe, distanced, opera event for thirty participants. I am currently directly involved in trying to preserve Hermann's Jazz Lounge on View Street – the oldest, continuously running jazz club in the country – and trying to find a new space for Raino Dance, which was recently forced to relocate from their Yates Street location. I walk the walk. Support the arts!
A full list of candidates in the running for Victoria City Council can be found here.