SUMMER SHOW + SALE FOR VAC MEMBERS

Members of the Victoria Arts Council are invited to submit one work for consideration to be included in a special summer group exhibition and sale to take place Friday 10 July – Saturday 22 August 2020.
Please email arts@vicartscouncil.ca with a jpeg of your work and the following:
+ Name
+ Brief Artist Statement
+ Title and date of Work
+ Dimensions
+ Price if applicable*
+ Any other pertinent information about the work submitted
Deadline to apply: Tuesday 30 June by 12PM
Beyond the VAC Membership dues or affiliated group dues, there will be a $20.00 hanging fee associated with this exhibition. Once selected, artists will be asked to deliver the artwork exhibition-ready to 1800 Store Street no later than Wednesday 8 July at 12pm. Hanging fee can be paid in advance or at the time of drop of (cash, cheque, or charge). Unsold work must be collected at the end of the show. No opening reception is planned at this time.
Payment on all sales to take place by 30 August 2020;
*the VAC retains a 25% commission on all sales.
………………………………………………
LITTLE GEMS 2019 Holiday Show+Sale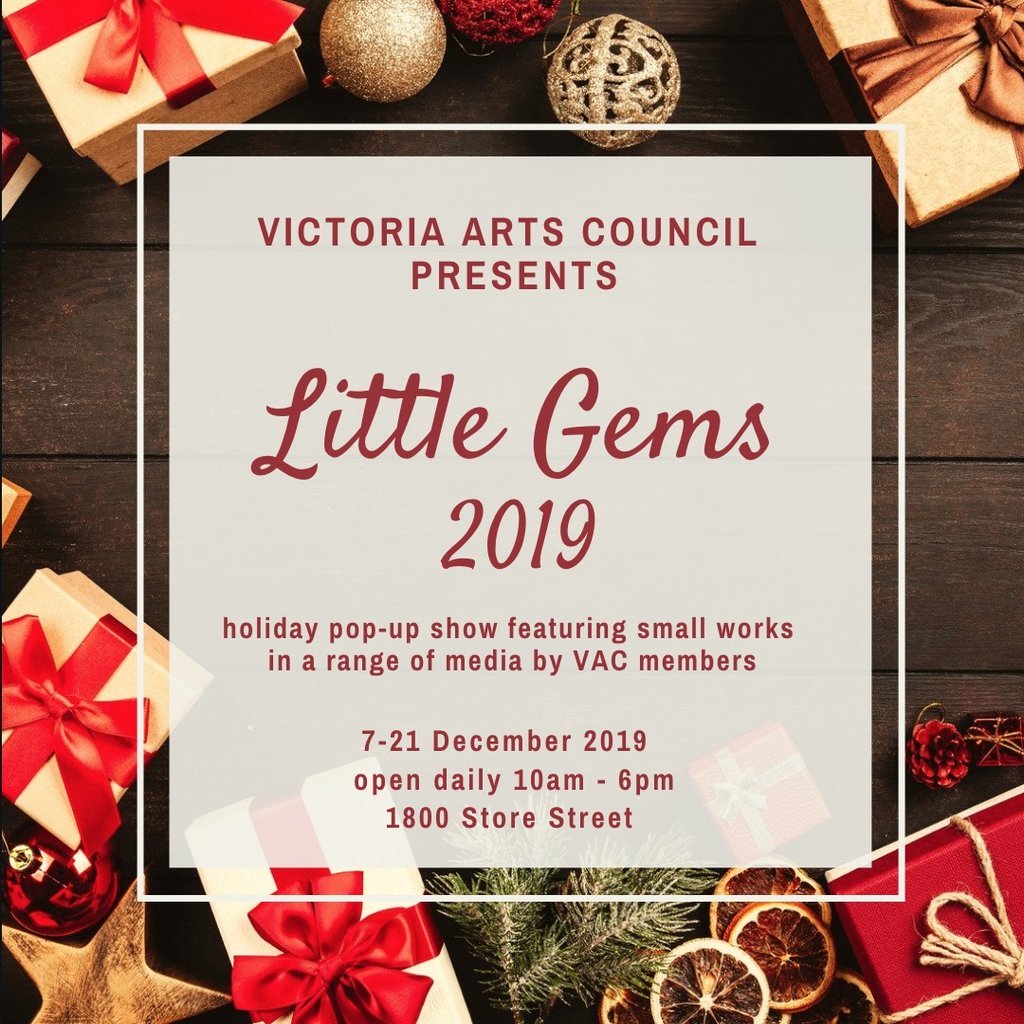 Exhibition: 7-21 December 2019
Location: VAC, 1800 Store Street
Open daily: 10am – 6pm
Opening Reception: Saturday, 7 December from 7pm to 9 pm
The Victoria Arts Council (VAC) is pleased to host another installment of Little Gems at 1800 Store Street.
This festive event kicks off the holiday season with works by a wide variety of local artists and artisans, including painting, drawing, ceramics, craft, jewelry, and photography.
Just in time for holiday shopping and with all pieces priced $500 or under, there is a little gem for everyone.
This holiday season, support your local artists!