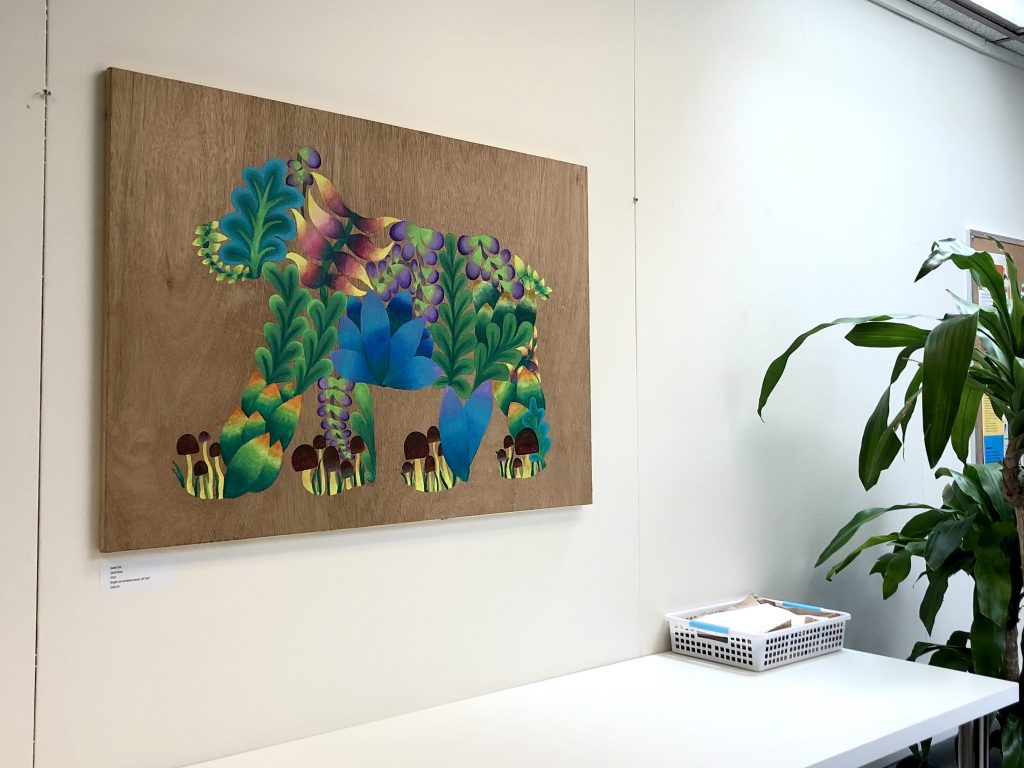 (Sarah Jim, Spirit Bear, 2019, Acrylic on reclaimed wood, 36"x24", $750.00)
We are pleased to present a collection of prints and original paintings from local artist, Sarah Jim. This body of work explores the artist's connection to land through her unique illustrative sensibility. With a focus on vivid colours and playful line work, Sarah's art vibrates with energy. Sarah Jim at theDock is presented by the Victoria Arts Council, in partnership with theDock: Centre for Social Impact, for the summer term of 2021. It is our hope that you experience this body work while considering your own sense of place. Enjoy!
Sarah Jim is an emerging artist of mixed ancestry and is a member of the W̱SÁNEĆ nation from the Tseycum village. She holds a BFA from UVIC and conducts environmental restoration on her ancestral territory. Creating place-based artwork of her homelands and waters allows her to educate others about the importance of native plant food systems and coastal medicines in relation to the ecosystem and W̱SÁNEĆ culture.
You can learn more about Sarah's art on her website, www.sarahjimstudio.com, follow her on instagram @sarahjimstudio, or find her on Facebook: Sarah Jim Studio.
Contact theDock directly to schedule a tour of Sarah's work. https://www.thedockvictoria.com/