22 April – 19 July 2022
theDock: Centre for Social Impact (722 Cormorant St, Victoria)
Monday – Friday, 8:30am – 5pm
Natural Transformations by Maurina Joaquin
Natural Transformations explores personal experiences of trauma, brain injury and disability, as well as the layers involved in the healing process.
Maurina is a Sooke-based artist and has been exhibiting artwork since 2019 in Sooke and Victoria, with her practice focusing on themes of disability and healing from trauma through creativity.
In this series, Maurina uses various printmaking techniques including Suminagashi, monotype and collograph printing, as well as embossing and collage to create layered compositions.
Maurina was drawn to Suminagashi printmaking as a way to cope with PTSD from a near drowning in 2010 that resulted in brain injury. This ancient Japanese process involves floating ink on the surface of water to create marbleized effects on paper, and using this technique has helped in healing her relationship with water.
The Creative Journaling Kits available at this exhibition are created by Maurina as an invitation for the public and people with disabilities to engage in their own creative practices. These kits are free and include various materials and simple instructions for creating journal art.
Maurina is an advocate for disabled artists and the potential of healing through creativity, and has led various workshops and artist talks exploring these themes.
Maurina's intention with this exhibition is to advocate for the traumatic brain injury community and their families; to bring awareness of, and to bridge the gap between, traditional and complementary care that is available to those who sustain traumatic brain injury.
Instagram: @artofadapting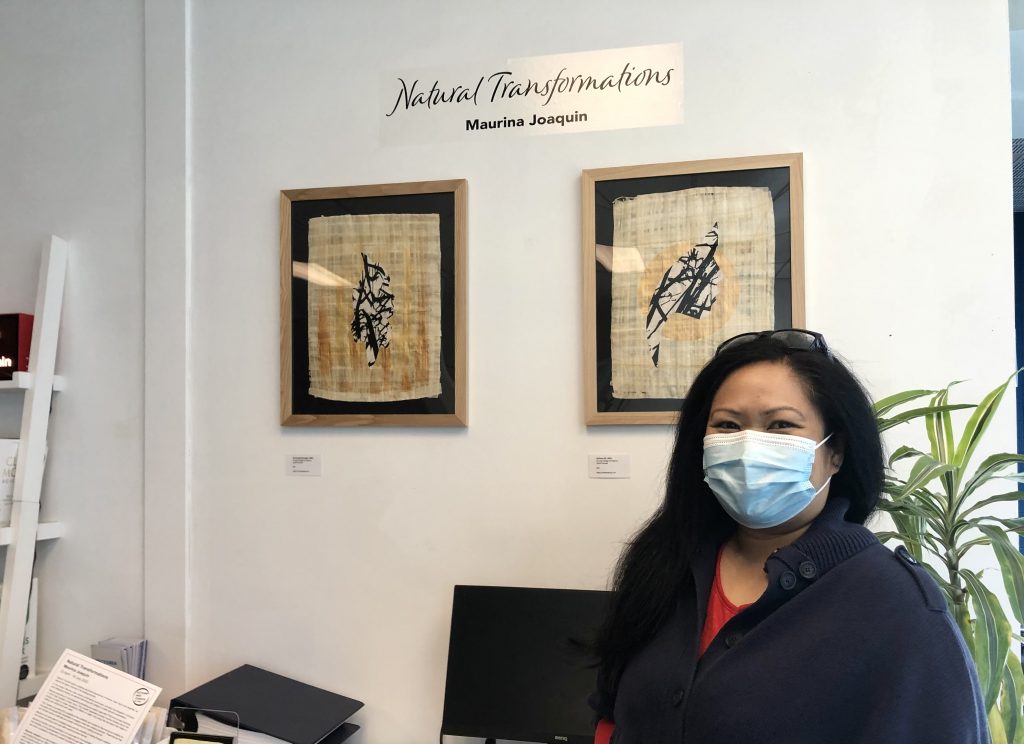 About the Artist:
Maurina Joaquin is an artist based in Sooke, BC whose work focuses on themes of disability and healing through art. After surviving a near-drowning in 2010 that resulted in brain injury as well as trauma and post-traumatic stress disorder, Maurina has utilized art and creativity as a way to heal, and is an advocate for creativity as a complementary method of care for those who experience trauma.
Creating mixed media work using various types of printmaking, as well as embossing, stenciling, collage and mixed media, Maurina's work explores and communicates themes of disability, including brain injury and trauma.
Maurina has been exhibiting her work at the Sooke Arts Council and the Victoria Arts Council since 2019, and has studied visual arts at the Vancouver Island School of Art since 2013. She has led a variety of printmaking workshops focusing on healing and disability with the Victoria Brain Injury Society, and has had her work published in a variety of Vancouver Island-based publications.
Maurina will be discussing her work with CreativeMornings/Victoria on May 27th, 2022. The link to this free virtual lecture will be available shortly on our chapter page.